One more year, we celebrate the first harvest weekend !!! As you know, we begin soon and we like you to come to spend a day with us harvesting, grinding and enjoying a very special day.
You will be able to see the whole process of how we collect, how we carry and how we "process" the olives. You will enjoy the smells, colors and the experience of being part of Olicatessen; An early, intense, olorous and full-blown collection oil.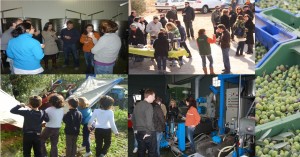 We do it because we like to teach our olive trees (young and centenary), the crop (which is the beginning and our year-round work and with which we get this oil so special), the elaboration process (which is innovative and different from as is done in most of the oil mills) and especially for you to try the new oil (you will understand how the oil evolves and what attributes are valued positively and negatively).
Place:
Molí dels Torms
L701 road, km 16.5
25164 Los Torms (Lleida)
Tel. Contact: 973 128 362/650 943 621
REEMEMBER: You do not have to enter the village, we are on the road. ONLY there is coverage with Movistar / Yoigo.
DAY:
Saturday, October 14
Schedule: 11: 30h-14h

Cost: € 0 (= FREE), but places are LIMITED. (We have a small space)   It is important that you RESERVE your place.  You just need to write us an email (info@olicatessen.com), call us (973 128 362/650 943 621) or send us a WhatsApp (650943621)