Molí dels Torms, our way of understanding olive oil
In 2004, two families with a long farmer tradition united our paths to make a shared dream come true: to produce a maximum quality organic extra virgin olive oil, preserve the territory and have a positive impact on our community.
With the construction of our own mill we achieved complete control of the production, the only way to warrant the excellence of the end result and the minimum environmental impact on the process.
Antique does not mean obsolete and new does not mean better. We learnt from the traditional methods that arrived through the experience of the previous generations that have worked the land from our family. At the same time, we stay alert to all innovations to incorporate those processes and technological advances that are faithful to our principles and allow us to improve the olive oil that we produce.
An integral productive model based on the equilibrium between history and modernity that works and in 2008, when we were just starting, it received recognition with the Tastum Award for the best agro-alimentary innovation.
We change, but the land remains. At 550-meter altitude hard limestone layers, clay and rock suffer the weather inclemencies. Thirst all year, fog, cold and frozen winters are opposed to dry summers at high temperatures.
Great-grandparents, grandparents, parents, sons, and grandchild have extracted from this raw land the fruit that has given continuity and life to our family. Today, under these olive trees, some with more than 300 years of history, we look forward with hope that our intervention will allow future generations to keep this relationship alive.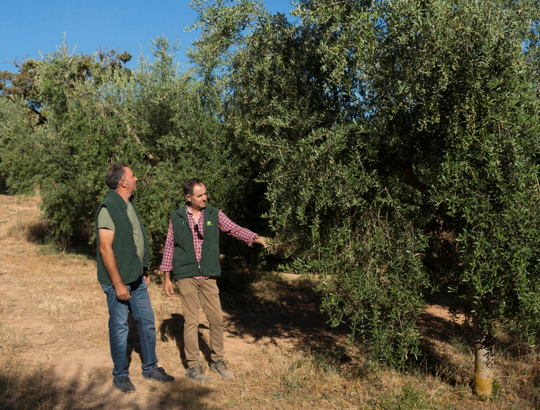 Active members of the community
We are a part of a whole, of the territory as well as of its people. And we want to be an active part. Apart from contributing with our best organic olive oil, we launch health initiatives and raise the local economy.
We invite you to know all our R+D projects, cooperativism and local trade.
Get the best of our Collection, without intermediaries