Just last week, it "busted" (that's how they called it around here) the first flower. Now it is blossom and nice to see …
This period is very important for the olive tree because if the bloom is short we will have few olives. In contrast, if we have a good blossom is a first indication that we will have a good season.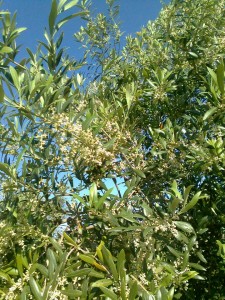 In between the flowers, there are thousands of small balls that will get fat and will become the olives that we all know. Now we just have to wait and pray for some extra rain before the warm summer to have them well ripened.
It is a pleasure to have a walk at this fields!