We have a new website, and have much news (1 of 4)
We have spent a lot of months working (apart from the field work and our usual tasks) to rethink how we communicate with our clients, how we transmit our project, how we want olicatessen to be.
It has been 16 years since we started this adventure and like everything else, we have evolved, we have learned and things (like it or not) changes.
In this first point, we will explain how we have worked the new website.
This is the third website we have!
We didn't have much choice but to change it, yes or yes. Technology has evolved and our website had become obsolete. On some devices it did not look good, the updates were very heavy … well, it has already done its job and it was time to get updated.
And you will say, well, new website. Oh no! A new website means:
1What do we want to explain?
Because we are no longer those of 16 years ago and now we have many new projects at hand, new offers, more products … the work of writing, bringing together everything we do in one document … WOW! On a day-to-day basis it doesn't seem like it, but what a lot of work we have done and how much we still have to do! Personally, it has charged us with a lot of positive energy.
To sum up: Look at this photograph. They are 16 years apart (the trees and us)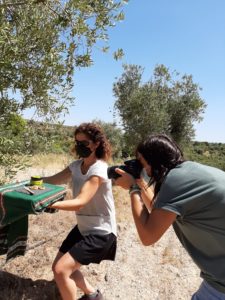 2 Images. 
And of course, the images have become "old", we are bored with the photos that have already been used many times … But of course, … it has caught us in this time of half confinement, which has not made it easy! Here's a hint, hahahahaha
3 Online shop.
We have always opted for small businesses, local businesses, for specialized stores.
They have been (and we hope they will be) our main ambassadors. They explain the product, they advise it to those who will appreciate it … but the Covid and the change in consumer habits have not given us much alternative.
And it is also true that since we are not in large stores or present throughout the territory, it was difficult for us to respond to people who asked us to buy and did not have a store nearby … We hope it will be a tool to facilitate our access products.