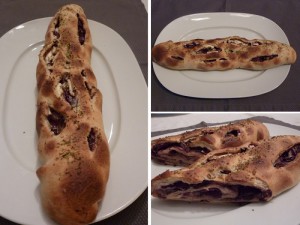 INGREDIENTS:
1 pizza dough (or you can do it yourselve)
175 grams of cheese spread
1 red onion very thin rings. You can soften two minutes in the microwave or at the pan over low heat)
Olicatessen olive paste (as much as you like it)
oregano
PREPARATION:
Preheat oven to 180 degrees with air.
Unroll pizza dough, spread with cream cheese, put the olive paste and spread on top, and finally cover with the onion rings.
Roll the dough on the narrow side, tuck the ends inward so as not to enclose the filling and place on a baking tray lined with baking paper.
Sprinkle with oregano.
Make three deep cuts over the dough and bake for about 20 minutes at 180 degrees.
The creaminess of the cheese it make it soften and taste delicious, but strong, of the olive. Highly recommended recipe.
Can be served as main course, to accompany a salad, or cut into slices as an appetizer.
Bon appetit!
Recipe made by Uhmm qué rico