I propose you a great dressing. It is perfect for vegetables like potatoe, broccoli, green beans, cauliflower, …)
Put Olicatessen Extra Virgin Olive Oil in a pan at very low temperature
Peel the garlic and cut them in thin slices and put them over the olive oil. Put a lid (With small holes) over the pan so that the aromas concentrates inside.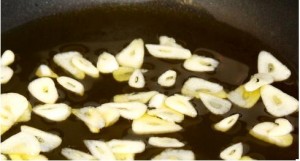 Once the garlic starts to lose the white color (Never let them go brown!!!!) it's time to take it out of the fire.
You can use it either warm or let it cold down. It maintains the classic vegetable aromas of Olicatessen Olive Oil and gives it a nice garlic touch that make it unforgettable!!!
Enjoy it!!!!