Once again we celebrate the open doors day. A day to see and experience a day of harvest.
We like to show how we work, what our farms are like, that we face each other, and see the complete process of making Olicatessen organic extra virgin olive oil.
To be able to celebrate this day, and do it safely, it is essential that you register in advance (by email at info@olicatessen.com, by phone at 973 128 362 or by WhatsApp at 650 943 621). The capacity will be limited, and although the activity is abroad, the organization will be done in such a way as to avoid crowds.
What will the activity be like?
Arrival at the oil mill, where you can have breakfast while we wait for the group to arrive, say hello and catch up a bit, which after so long, makes us very excited!
Afterwards, we will go to the farms (each family unit in their car), which are 5 minutes away. Venanci will be waiting for us while he harvests olives. And here we will explain the different varieties, how we grow, how we collect, rural architecture, curiosities of the territory … and the little ones will be able to climb the umbrella to harvest olives!
Once the harvest is finished, we will take the olives to the mill, where Benja will enter them in the oil mill, sell them and begin the grinding process. Both Anna and Emma will guide you (in bubble / family groups as you have come, in groups of maximum 5 people) through the oil mill so you can see the entire process.
Outside again, you can taste "old" oil and new oil. A great way to see and understand the evolution of extra virgin olive oil.
Will you miss it?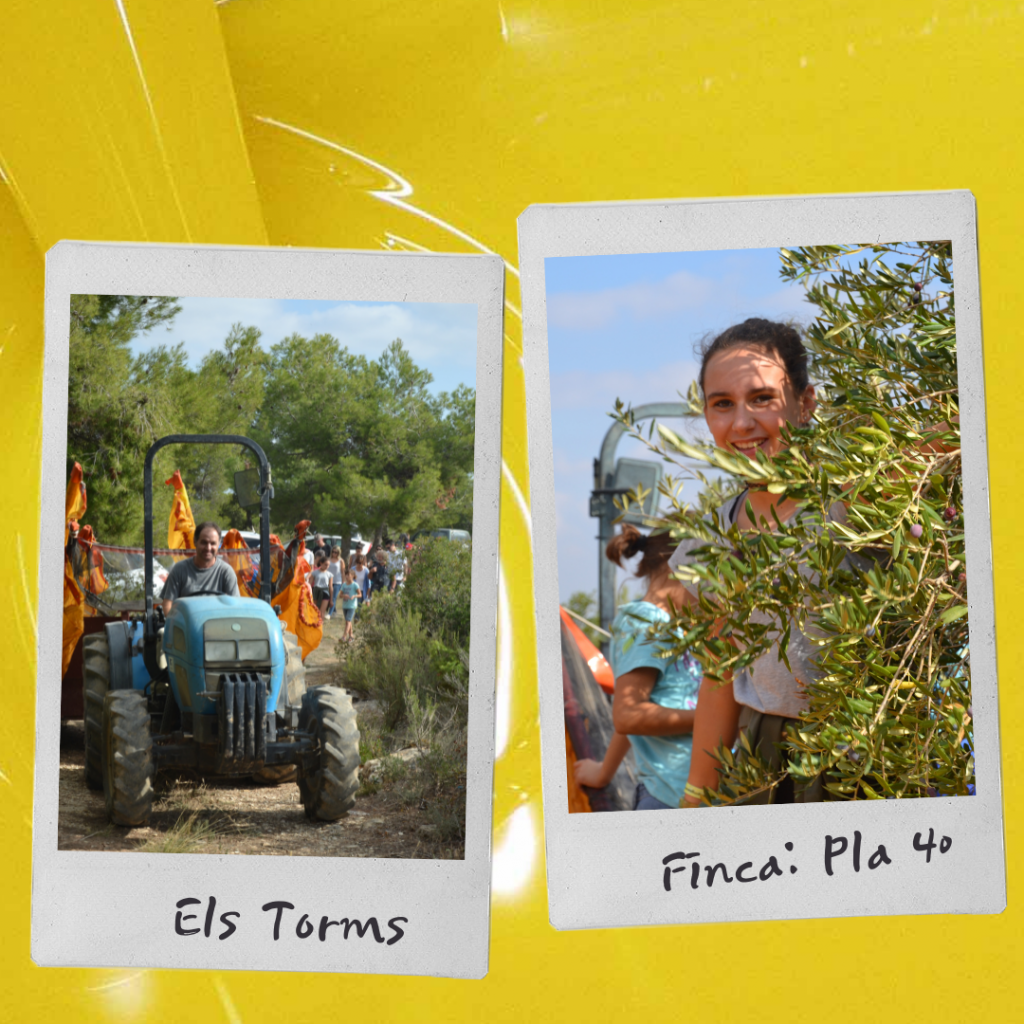 Summing up:
📆: Saturday October 16, 2021
Arrival times Group 1:
Arrival at 10am and visit to the farms at 10:45 am
11:45 am. Visit and tasting at the oil mill.
Arrival times Group 2:
Arrival at 11am and visit to the farms at 11:45 am
1:00 p.m. Visit and tasting at the oil mill.
You can make the reservation through:
☎️ 650 943 621/973 128 362
📧 info@olicatessen.com
📍 Meeting point: Molí dels Torms / Olicatessen. Carretera L701, km 16.5-25164 Los Torms
😷 For everyone's safety, we ask you  to wear a mask